Geophysical survey and underwater research at Plemići bay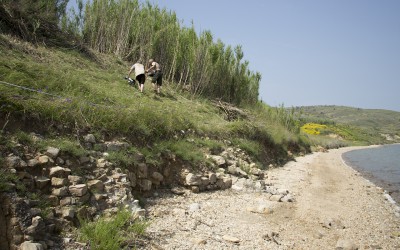 At Plemići bay (Rtina, Ražanac municipality), in May and June 2018 geophysical survey and underwater research were conducted within the project RED's activities on the site of a previously identified roman pottery workshop.
Geophysical survey, lead by dr. Fabian Welc (Cardinal Stefan Wyszynski University, Warsaw), collaborator of the project, was conducted by gradiometer and GPR and with the aim to better define the architectonic remains visible within the eroded coastal profiles. Results should facilitate the definition of both the extension and the character of this complex, which could tentatively be interpreted, on the bases of its size and features (large walls with strong buttresses), as a warehouse. This interpretation is even more supported by the presence of two harbor piers, one stretching in close proximity to the investigated structure.
The second pier was, on the other hand, investigated by underwater survey conducted by a team of Zadar University led by project's collaborator dr. Mato Ilkić, with the aim to better define its structure and dimensions, while the collected samples will aid its precise dating.
These interdisciplinary research activities are meant at better defining the pottery workshop complex, which was, with all probability, set up within a larger Roman rural complex, while the presence of a dedicated harbour infrastructure, so far an uniqum on the eastern Adriatic, is indicative of the importance of the site within the economy of early Roman southern Liburnia.