AdriAmphorae – Amphorae as a resource for the reconstruction of economic development in the Adriatic region in Antiquity: local production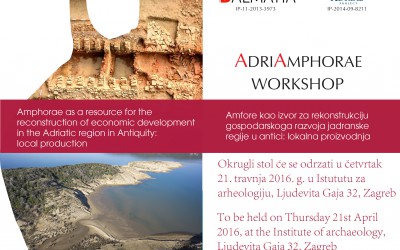 Map Unavailable
Date/Time
Date(s) - 21/04/2016
All Day
Categories
At the Institute of archaeology in Zagreb the round table "Amphorae as a resource for the reconstruction of economic development in the Adriatic region in Antiquity: local production" will be held on the 21st April 2016 within the Croatian science foundation's projects RED: Roman economy in Dalmatia and AdriaS: Archaeology of Adriatic Shipbuilding and Seafaring. 
To stimulate the discussion are various dilemmas and problems regarding the reconstruction of the local economy and the role of the local/regional amphorae production and the distribution of vessels and the transported goods. Within an integrated scientific approach to the unification of data on the history of the ancient Mediterranean economy, the eastern Adriatic presents a wast potential which has, unfortunately, been poorly utilized in this discussion. On this occasion the intent is to compare data from both Adriatic shores, identify the similarities and the differences as an incentive to further research and reflection on the ancient economy and the role of amphorae in its reconstruction.
The invitation to the round table can be found here.
Download Adriamphorae Programme.